Nothing makes us more excited to show up to work than serving family caregivers. We have big ideas, a fantastic team, and a great mission. It also feels good to see Avanlee Care recognized by Inc. for Best in Business 2022. Our excitement and passion are complete, and our direction is affirmed. Thank you to everyone that makes this company great!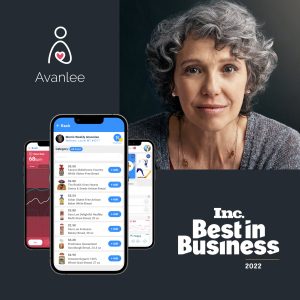 ---
Read the full press release here.
Avanlee Care has been named to Inc. Magazine's 2022 Best in Business list in the Rocky Mountain Region category. Inc.'s Best in Business Awards honor companies that have made an extraordinary impact in their fields and on society.  
The list, which can be found in the Winter issue of Inc. Magazine (on newsstands December 13), recognizes the most dynamic companies of all sizes and industries that have had an outstanding influence on their communities, their industries, the environment, or society as a whole.  
"We are thrilled to be included in this year's Inc. Magazine's Best in Business list," said Avanlee Christine, CEO and founder of Avanlee Care. "The mental, emotional, and physical impact of caregiving is beyond measure, and 65,000 individuals are stepping into this role daily, spending an average of $8,000 annually. An all-in-one tech solution of this caliber is way overdue to support these families so they don't have to go it alone."   
Avanlee Care was developed to serve the rapidly growing and underserved population of unpaid caregivers, simultaneously improving the lives of both the caregiver and the care receiver. The app has a free and paid option. The Avanlee Care app eases countless pain points of the caregiving role, from appointment coordination to curated shopping lists and food delivery to medication administration and private communication within the network of family and friends.   
Scott Omelianuk, editor-in-chief of Inc., says, "Inc. magazine is dedicated to showcasing America's most dynamic businesses and the great things they do. The Best in Business awards shine a light on those that have gone above and beyond their original mission to make a social, environmental or economic impact, benefiting those around them." 
Rather than relying on quantitative criteria tied to sales or funding, Inc.'s editors reviewed the companies' achievements over the past year and noted how they made a positive difference in the world. They then selected honorees in 55 different categories – from advertising to sustainability to retail, and more – and in age-based, revenue-based, size-based, and impact-based categories. The applicant pool was extremely competitive – a huge success for the 241 honored in the list's third year. Honorees for gold, silver, bronze, and general excellence across industries and categories are featured online at inc.com/best-in-business.